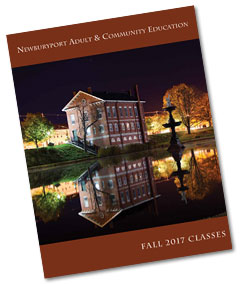 Our catalog's cover celebrates the work of Drew Finch, a student at Newburyport High School. Terrific work!

This fall we're offering close to 80 classes—
something for everyone.
And the good news is that learning doesn't have to be driven by politics or protests. It is the opportunity to explore something new or rediscover something you once knew.
The classes are updated here. The catalog arrives late August. Your chance to revive your curiosity begins now!
We're also celebrating our Summer Writing Contest.
A big thank to everyone who shared their stories. We had some wonderful ones!
The winner is Glenn Myers' My Joyful Trance (it is also included in the print catalog). Also placing are:
Second Place: American Bison by Chris Disario
Third Place: The Falcon's Choice – Tina Morris
Honorable Mention: Southern Breeze by Marianne Curcio
| Read Winners |
See you in the Middle School hallway,
Vicki Hendrickson