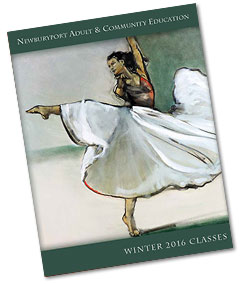 A new year is once again upon us. The question is what will you do with it? Is this the time to dance, sing, write, paint, or play the guitar? Or read a classic and discuss it? Or explore the gardens at Giverny?
So much to do
and so little time.
Take inspiration from Susan Spellman's dancer as she graces our catalog cover  and gives motion to our many learning opportunities. Let her bold, high-kicking attitude get your blood moving. Thumb through the pages and imagine yourself doing something you've never tried or haven't tried in a long while. Speak French or Spanish or Italian.  Give yoga or Tai Chi a try. Explore the galaxy or learn to play bridge or start to collect coins. The world is your oyster.
The Winter session starts the week of January 25, 2016.
The online course catalog is updated and print catalogs
will be in the mail right after Christmas.
See you in the hallway,
Vicki