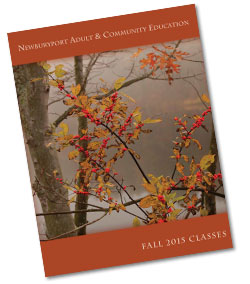 A little excerpt from
Edward Albert Guest:
"Somebody said that it couldn't be done
But he with a chuckle replied That
'maybe it couldn't,' but he would be one
Who wouldn't say so till he tried."  
You may have to believe in magic…at least, a little.
So many wonderful adventures in learning this fall.
Take a few minutes to peruse our class listings and imagine yourself painting or discussing Susan B. Anthony and Katy Stanton. How'd ya' like to learn to sew or play bridge? Bet you've thought of learning a second language as some point or another.
Here's your chance to try something new—something exciting. Don't burst the bubble of your imagination. You can do it! So, do.
See you in the hallway, Vicki