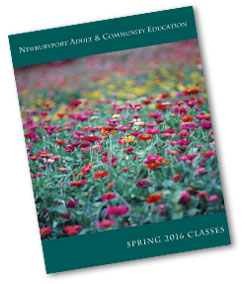 What a difference a year makes! Last March we were buried in snow, this year the peepers are singing before daylight savings.
2016 Spring Classes run from April 25 – June 24
The good news is that Newburyport Adult & Community believes in the Postal Service motto–neither rain nor sleet nor snow nor an early spring can sidetrack us from our mission.
And our mission is to offer you the best learning experiences we can come up with–and we've come up with some pretty darn good ones.
So look for your catalog which should be in the mail in a week or so. Or if you're really eager, check us out now.
We're the bee in your bonnet.
The daffodil on the hillside.
Welcoming you. Encouraging you.
You're our raison d'etre!
Enjoy your springtime and keep right on learning,
See you in the hallway,
Vicki