Class Description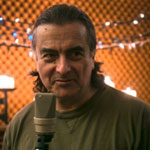 Celebrated lyricist, poet, and musician, Al Basile has taught for 25 years. He believes that we all songs that are part of our life experience. How were they created? Can we learn this art/skill? Do the words always come first? Where do you begin? How do you make the specific choices in setting words to a melody? The technique to writing a song lyric involves matching syllables in words with melody notes to be sung in time over a rhythm. Class members don't have to know music theory, play an instrument or even have a conventionally "good" voice. This isn't a class on music composition or performance – but we will have to sing enough to show that the words "sing" properly – if you can't sing at all, someone will sing your work for you.
We'll look at examples of the techniques used by lyricists to make their work effective and memorable. Examples come mostly from songs of the Great American Songbook, with some more contemporary songs. Class members will get installments of the course material by email well in advance of each meeting, and submit their homework to the group in advance as well. We'll discuss everyone's work at each meeting,
Eight, 1.5-hour sessions: Tuesday, 7:00 – 8:30 p.m.
Begins July 28, 2020. Online on Zoom.
Al will email you prior to class to send you instructions
and/or links.

ONLINE REGISTRATIONS ONLY.

Cost: $180. Class limit: 10.