Our Third Annual Writing Contest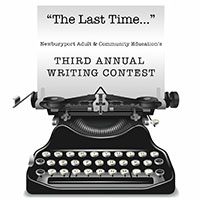 First Prize: $100 NACE Class Gift Certificate. Work published in our Fall catalog and Website.
Second Prize: $75 NACE Class Gift Certificate. Work published on Website.
Third Prize: $50 NACE Class Gift Certificate. Work published on Website.
Topic: The Last Time…
W I N N E R S
1st PLACE
Yellow House Seen from a Distance by Frank Letizia
The leaves sat still–sopping wet bundles of work to be done–a reminder that the miserably long winter we had endured wouldn't truly be over until these piles of autumnal laziness were addressed. One acre doesn't sound like much, but who honestly knows how big one acre really is? My quiet quasi-meditative reflection was briskly interrupted by the rhythmic chopping produced by a hole riddled muffler of a Harley that proceeded to turn onto the side street that scarcely saw travelers. Only in my periphery was I able to make out what appeared to be a member of Hell's Angels. Disturbed and scared I did what any introvert would think of doing– ignore it and await my impending doom for fear that running or calling for help might inconvenience my assailant. So there I was, raking leaves, trying my hardest to pay no attention to the approaching intruder. "When did you cut down my tree? Subconsciously I formulated the response I wanted to articulate–about how I didn't cut down anything, my parents had it cut down because when we moved in I was eight years old and it scared the life out of me. The roof that covered my bedroom lay directly under its ominous shadow. My hypochondriac wired mind thought while I slept a tornado, lightning storm, or a particularly windy night would send the colossal piece of lumber through my bedroom. Instead, all I was able to muster up was, "I dunno, maybe eight years ago?" "Why did you paint it green?" Again, I felt the desire to explain that it wasn't me or even my choice! However I wasn't able to voice my frustration before he interjected. "What was wrong with yellow? I painted it myself in just two weeks. Built this house with my own hands." Without saying another word, he nodded dejectedly in my direction before turning his back on me and departing on his bike. I felt terrible for this stranger that had to see his house painted green. I never had a chance to apologize for that, and I can still see his eyes… tracing the image of the tree that once stood next to him. I remember returning to my raking wanting to feel unaffected by our conversation, if it could even be called that. That wasn't the last time I had to rake the leaves like I hoped it was going to be. My mom and I weren't evicted until May, so there was a lot more spring-cleaning that fell on my shoulders. I don't think raking is even the right term I would describe it as anyway. It more or less involved me pushing piles of wet leaves into the woods and spreading them out, where no one would care or ever notice they were there.
Second Place
The Last Time By: Heather Benoit
"Mama, when did you last pick me up?" "Hmmm?" I mumbled, distracted by the rows of plants outside the garden center, wondering what will grow in the somewhat shady, but not totally shady part of our yard. "When was the last time you picked me up and held me?" she demanded. I glanced at my tall nine year old, as I crouched down to examine a barely surviving Hosta. "I'm not sure .. .last week maybe? I think you talked me into giving you a piggy back from the couch to the stairs." looked around for a sales clerk, wondering if they gave discounts on dying plants. "Can you pick me up now?" "Now? Honey, you are a big girl, you don't need me to carry you. Besides, I need to look at these plants." made my way to the next row, poking into the back of the shelves in hopes of finding a hidden gem. "Please pick me up Mama" she said, urgency creeping into her voice. I stopped examining the perennials and turned toward her, "Is everything okay? " "Yes, but I don't want it to already have been the last time you picked me up. Did we already have that? don't want that yet. " Her brown eyes looked up at me, serious and still. I reached out and put my hands under her armpits. She put her hands on my shoulders. We both crouched a bit, looking like two performers getting ready to perform an acrobatic stunt. "One, two, three" I whispered, and she sprung up, wrapping her legs around my waist as I put my arms under her legs. She laid her head on my shoulder. We were silent, enjoying the initial snuggle. "I'm going to be sad when we can't do this anymore. I wish you could always hold me, " her muffled voice declared from my shoulder. "It is nice, isn't it? " We strolled through the plant racks, gazing at the plants, no longer noticing what shape they were in or if they were shade-loving or required full sun. Faintly aware of the waning sun and racks being wheeled inside for closing, I felt the weight of my daughter, her breath on my neck, and her arms wrapped around me. "What's going to happen when I'm too big?" she whispered. "I'll give you hugs. I'll always be able to give you hugs." "How about when you die? What am I going to do when you die?" I could hear the tears springing to her eyes. "You can't hug me then." I kissed the top of her head. "You won't be able to see me, but I will be there. I'll give you hugs and carry you. I'll always be with you, whenever you need me. " She was silent, relaxed in my arms. I rubbed her back, walking in and out of the remaining racks, burning the moment into my memory.
Third Place
The Last Time … Paulette Demers Turco
The last time my mother opened her Singer sewing machine was for the final stitches of herthird daughter's wedding gown. My mother believed that marriage lasted beyond death into eternity, except perhaps for several of my cousins who had become plump while in high school, with whispers of babies due, and were ushered down the church aisle, their new husbands lingering for only a few months. On that day in June, when my mother last closed the cover of her Singer, she announced, without stating so, that she had accomplished her goal to provide for her daughters until their wedding day. Her decision was unnoticed: no thank you, no why not more. No one considered the hundreds of dresses made by her hands, and worn, not only by my mother, my sisters and me, but as hand-me-downs, by cousins whose mothers didn't sew. Did my mother think of the lacy christening outfits that had flowed far beyond newborns' toes, or the white taffeta first communion dresses that had flared out like peonies floating above my sisters' and my knees and spindly legs, or the annual full-skirted pastel Easter dresses or red velvet-belted Christmas dresses? Did she think of the tailored 'tween and sleek to-the-knee teen birthday and graduation dresses, or the flowing rayon and organza high school prom gowns, or the culmination of her creations, three regal white silk and delicate pearl-appointed lace wedding gowns with flowing trains and barely-suggestive translucent organza upper-bodices and slimming sleeves? Did she think of how each daughter's wedding dress was complimented by six or eight form-fitting bride's maids gowns or of her own mother-of-the-bride gowns, her favorite being an iridescent opal aline that accented her gray-blue eyes, slimmed her middle-aged figure and made her seem to float a•cross the floor? In one simple gesture, my mother had declared herself free to dally among the racks and dressing rooms of Ann & Hope and to purchase from then on, within her and my father's modest budget, a wardrobe from an array of styles on racks, continually filled by minimum wage earners she did not know. Too soon after, as her grandchildren arrived one-by-one, her memory of her sewing masterpieces gradually faded, along with the events they were made to celebrate. By the time her sixth grand-child began to speak, my mother no longer recognized photos of any of the dresses her hands had created and fit to the person who would wear it. A memory book of snapshots of her sewing creations was assembled in hopes of reconnecting her with those joy-filled family moments in her past. As she touched each page, in visit after visit, she expressed wonder, but not even vague recollection of having made the dress or attended the event it celebrated. Still, even up to the last time she turned the pages, she was pleased when informed again that she had sewn such a collection of dresses for her family over the years of her life.