There's nothing like a pet…
Please meet the gracious and beautiful pets who graced us with their photographs as they joined us for the Favorite Pet Contest.
We love them all—each and every one.
Thank You to Our Sponsors
The Village Pet Shop
Chococoa Baking Co and Café (Home of the Whoopie)
Kurgo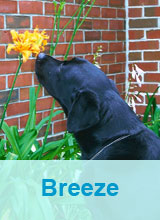 Breeze
Breed: Black Lab
Owner: Carol-Ann Doyle
My gentle Breeze is my second service dog. She makes my life worth living every day. I am a retired special needs teacher in an electric wheelchair. As the sun rises, a warm lick of my hand starts my day. Breeze gently takes a rope toy (actually a tool for her) in her mouth and places one end within my reach. She is so strong as she slowly backs up and pulls me to a sitting position in my bed. I am then able to transfer from my bed. After breakfast she opens the door and positions herself next to my wheelchair so I can secure her leash and then we are off for whatever adventure the day presents. The numerous things she does throughout the day for me are beyond measure. But most important, she gives me unconditional love. She is my hero, my companion, my helper, my purpose for getting up every day.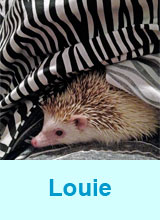 Louie
Owner: Linda Meskie
I'm Louie, the hedgehog. I may be prickly at times (like when you wake me up!) but I'm really a cuddler. I like to snuggle up to my owner when she's watching movies, and when it's cold out, I always take naps in the pockets of her sweatshirts. One time, I climbed out of my cage, jumped off the bureau, and climbed
into her bed, under the covers–I was lonely! My favorite thing to do is tangle myself in her hair so that she can't get me out, and I'll chirp happily.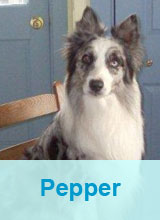 Pepper
Breed: Australian Shepherd
Owner: Kim Scheidegger
"Ready to Join the Family for Dinner!"